2014 Cabot Trail Relay Race Recap
Few events come close to what the annual Cabot Trail Relay has to offer. The 17-leg, 276K relay around the famous trail on Cape Breton, Nova Scotia, has without a doubt become my favourite running event of the entire calender year. 2014 was my fourth consecutive year at Cabot and this year's edition did not disappoint!
In case you're pressed for time, I'll spoil the surprise...
The Black Lungs
placed second overall for the third straight year and honestly, we're absolutely thrilled with that result. Our team was in dire straits this time around with only nine runners available to run the relay (we had 12 in 2012 and 14 in 2013) which is probably about the fewest a team would want and still compete. This meant that eight of our guys would need to run twice (i.e. double) while the last 'lucky' guy got leg 9 (the unofficial hardest leg of the relay).
After a busy day of travel, we rolled into Baddeck on Friday afternoon, checked into the
best place in town
, and had our traditional "last supper" which included a few pints and a (re)new(ed) emphasis on having fun, (unofficially) dubbed rule #18b.
Saturday, we were up bright and early at 5 a.m., had time for a quick bite of breakfast, located the Romanian (who had crashed in the home of the Inn owners in a child's bedroom), and arrived in plenty of time at the race start for 7. Dan Kelly, a last-minute (and essential) addition to the team had us off to a perfect start on what was looking like a near-ideal day. 1:01 for 17K on Leg 1 and good for third.
The good times (and relentless hills) kept rolling with Peter on leg 2 (he ran well, but his wife 'humiliated' him by being 'only' 10 minutes behind) and a well-earned (and always entertaining) win for Simion on leg 3 (our third straight win on the leg).
It was then my turn to take us up and over Cape Smokey on the relay's longest leg (20K) and one of it's most challenging. Having been bothered with a rare groin/hip injury in the two weeks leading up to the event, I was more nervous than usual and really had no idea how/what I was about to do. But when the time came and we lined up at the start, I did as I always aim to do and simply went for it!
All systems seemingly a go at the start of Leg 4. Photo: Mel C
I began by cruising at a comfortable and controlled pace knowing that I had about 9K of rollers before the leg's signature climb up Smokey. After a kilometre or two with someone (a guy in a dress) nipping at my heels, I found myself alone in second place and knew this run was all about time. The Ks seemed to click off like clockwork and it wasn't long before I was dancing to the tune of '
Happy
' at the water stop at the bottom of Smokey. The climb begins abruptly around 9K and it's a full 2K to the top. The first several hundred meters are probably the most steep and immediately reduced my pace to what felt like a crawl. The climb seemed endless and the desire to quit (or walk at least) crossed my mind several times. Yes, we all want to stop sometimes! The fact that we don't means everything!
Somehow managing a smile on Smokey. Photo: Mel C
The top provides near instant relief and it's then another 9K of generous downhill to the finish. My legs responded right away and it wasn't long before the Ks were clicking off at what seemed a dangerously speedy pace (to which my groin was not impressed). There was one final 500m 'hump' to overcome just after 18K and then a fast, albeit more flat, K into the finish. Never one to focus on the watch, it was only upon seeing the finish line clock turn over from 1:11 to 1:12 that tipped me off to how well I had done. As I sprinted for the finish I was completely overcome with euphoric excitement and even managed a leaping fist-pump at the line. This leg (both the experience and the result) now top my list of all-time best running/racing experiences (just ahead of leg 10 in 2012)! For a complete overview of the leg, including an elevation profile, see my Garmin Connect
details here
.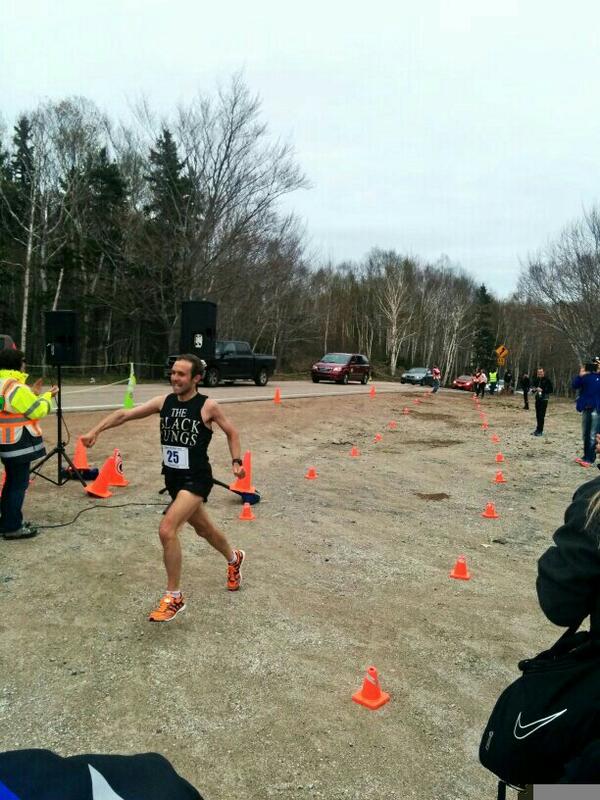 Having some fun at the finish of leg 4. Photo: @therilesyouknow
With little time to stop or slow down (and barely enough time to catch my breath), the relay continued at a fevered pace with Ross on leg 5, Doyle on 6, then Campbell on 7. With the daylight winding down, Davey took on leg 8 and pulled off another victory for the team (following in the footsteps of yours truly in 2013). We were now almost halfway done and all our eight doublers had completed their first of two legs.
Next up was Leg 9. Quite simply, leg 9 scares me. We call it the "career ender" for good reason. As of now, I still have no desire to take it on. It begins in daylight but ends in darkness. Over the course of 17.8K, I can only imagine what happens in the minds of those running it. Almost immediately, the leg climbs for almost 5K to the top of North Mountain. It continues with a few rollers on top before the screaming downhill back to the base (The smell of brake fluid haunts me to this day). And after all that, it's still another 5+K to the finish.
The man we chose to run (i.e. sacrifice) on this leg is 52 year old John Meijer, who first ran this relay back in the early 90's, some two decades ago! His race times may have slowed (slightly) from those days, but his drive and willingness to battle has not. I didn't know what to expect from John at Cabot. I didn't give him nearly enough credit. John ran 1:16 flat and finished 5th. I now have nothing but the utmost respect and admiration for John Meijer.
Following leg 9 the relay really changes. Everyone is exhausted. We are sore. It is colder now and completely dark. The desire to sleep largely wins out over any willingness to wait around and cheer on runners who can barely be seen. The night runners are most definitely under-appreciated at Cabot.
Leg 10 is all uphill. Dan Kelly likes to run uphill. With almost zero visibility (a thick fog had rolled in) and the real-risk of running into a moose, Dan ran up MacKenzie Mountain in 59:09 and finished second. Our late-addition had done it for us again. Dan Kelly is going to be an amazing distance runner!
Leg 11 is downhill. Some people call it 'easy'. I haven't done it myself but I am assured that running downhill in the middle of the night in total darkness is not easy! The two massive climbs in the leg's last few Ks also don't help. Peter ran leg 11 in 53 minutes finishing third. He collapsed at the finish. We couldn't have asked for more.
I don't remember much about leg 12. It's the one where most teams are more interested in getting to the Tim Hortons than paying much attention to the terrain. It's apparently quite beautiful (in the daylight) and flatter with only a few gentle rollers. I was set to do leg 13 so we dropped off Simion at the start, wished him luck and proceeded to drive the whole leg to the finish in Chéticamp (we too made the mandatory Timmies stop for coffee and a snack). We saw Simion about 61 minutes later when he finished in 4th. He too had done exactly what he had come here to do.
I ran leg 13 which started on the outskirts of Chéticamp at 2:10 a.m. It started off okay... It didn't end that way. I quickly moved into the lead and felt pretty good at the time. Sheri Piers was in hot pursuit for awhile but by 4 or 5K I knew she was well behind. I could tell because there were a surprising amount of supporters from other teams out there yelling my name. Hearing your name being called out from complete strangers in the middle of the night is incredibly uplifting. Thank you to all those strangers! My own team met me at 10K to provide a useful point of reference. It was now just over 6K to go. It was then that things began to fall apart. First my right Achilles became increasingly stiff. Then, out of nowhere, my quads began to ache, then pound, then scream. It was as if I had hit the top of Heartbreak Hill in Boston. Every step was agony and got worse with every passing moment. After surviving through a few very slow Ks, I managed one final fast one after seeing the all-important "1K to go" marker. I finished a full three minutes ahead of 2nd place but was broken for it (and still am). I was all too happy to be done my part in the relay. I had done the best I could. Leg 13
GPS data
.
Leg 14 is another long one. Almost 19.9K in total and the second longest in the relay. Ross was looking to finish off his part in the relay with a good run and did so in a big way. He looked comfortable and strong the entire leg. With daylight approaching and darkness in retreat, he overcame several competitors to finish in third place.
The signature Robert Campbell stride on 16. Photo: Mel C
Legs 15 and 16 signal the now near end to the relay. Shorter and 'easier' in comparison, both legs amount to about 15.4K. Both also feature a finish that include a place to pick-up some much desired 'real' food, including a cafe on 15 and free pancakes on 16. Doyle ran leg 15 and made it interesting right up to the finish where he managed to out-kick a Maine-iac and finish in second place. Rob then ran the penultimate leg and was determined not to get 'chicked' (as he had on leg 7). He ended up thirty seconds ahead of the female that he followed for much of the leg and finished fourth. Our relay veterans had also come through for the team.
It was now time for the final leg. The "glory leg" as it's known. The sad part is that it's also the only leg of the
relay with no support. All teams are asked to make their way directly to Baddeck for the famous finish. This leaves the leg runners to fend for themselves as they make their way up and over Hunter's Mountain and then the gradual climb into Baddeck before the fast downhill finish. And so while we made our way back to the Inn to shower, change and "freshen up", Davey endured the loneliness of leg 17.
Just before 10 a.m. we made our way 'downtown' and assembled with the growing crowds that include both intrigued/confused locals and the 70 teams (and 1,100 runners) that invade the town and trail each year. The first runner came blazing in, followed by another, and then a few more. Before long, we saw him appear on the top of the hill and at the same time he seemed to pick up the pace as he came flying towards us. Taking it all in is hard to do given how quickly you can cover those final few hundred metres. But Davey did us all proud as he crossed the line and solidified our team of a third straight second place finish.
9 runners. 17 legs. 276K. 17:50:50 (3:52/K). Expectations shattered. As successful as we could have hoped. Happy. Oh, so happy.
A very short time later, my girlfriend Melinda who had assembled a wicked fast women's team, crossed the line to cap off their first place finish, taking the title from the Road Hags. Congratulations to the Hashing Hogtown Harriettes for their dominant performance (and for being so much fun). To the Maine-iacs for their always inspiring dominance. Also to the top mixed team, Cardio Arrest, for setting a new course record for their category. Since my first year here in 2011, the event continues to get more competitive and now features top-notch runners from across the country. I can't wait to (one-day) take on the Maine-iacs for the outright win!
The Black Lungs. 2nd overall. 276K in 17:50:50. Photo: Mel C
A recap of the event wouldn't be complete without mention of what happens AFTER the running of the race. The day continues with an amazing lobster dinner and awards ceremony which takes place around noon in the local arena. Then, a mandatory and much-needed nap session follows to (pretend to) prepare the body for the last leg, leg 18 at the Yacht Club. Here, the beer flows, the band plays, and some people even go swimming! Drunken dancing, a trip to Tom's pizza, an argument or two... It's all part of the adventure and what makes this entire weekend the highlight of my year.
A rare 'selfie' of Melinda and I at the Yacht Club. Leg 18 is the best! Photo: D Way
Thank you to my teammates who made this experience one to always remember. To the other teams who shared in the camaraderie of the event. To the organizers and volunteers who make this event one of the best in the country. To the locals who accept and embrace the "foreigners" to their (usually) quite corner of the globe.
2014 Cabot Trail Relay Results - The Black Lungs
Leg# - Distance (K) - Runner - Time - Pace (Min/K) - Place
1 - 17 - Dan Kelly - 1:01:43 - 3:38 - 3
2 - 17.9 - Peter Speight - 1:08:29 - 3:50 - 4
3 - 13.5 - Simion Candrea - 0:52:21 - 3:53 - 1
4 - 20 - Dan Way - 1:12:16 - 3:37 - 2
5 - 17.5 - Ross Bain - 1:11:09 - 4:04 - 6
6 - 17.5 Michael Doyle - 1:07:09 - 3:50 - 5
7 - 13.5 - Rob Campbell - 0:51:59 - 3:51 - 5
8 - 12 - Anthony Davey - 0:45:38 - 3:48 - 1
9 - 17.8 - John Meijer - 1:16:01 - 4:16 - 6
10 - 14.5 - Dan Kelly - 0:59:09 - 4:05 - 2
11 - 14 - Peter Speight - 0:53:10 - 3:48 - 2
12 - 15.8 - Simion Candrea - 1:01:15 - 3:53 - 4
13 - 16.4 - Dan Way - 0:59:39 - 3:38 - 1
14 - 19.8 - Ross Bain - 1:16:04 - 3:51 - 3
15 - 15.4 - Michael Doyle - 0:58:16 - 3:47 - 2
16 - 15.4 - Rob Campbell - 0:59:15 - 3:51 - 4
17 - 18.7 - Anthony Davey - 1:17:17 - 4:08 - 8
Total - 276.7K - 17:50:50 - 3:52 - 2
The Black Lungs. Still second. A result/award I am most proud of.